Selecting the perfect domain name is one of the most important decisions when starting a blog. Your domain name is your web address and identity online, so you want to get it right. The domain you choose can impact your brand, SEO rankings, and growth. Follow these tips for choosing a domain name that positions your blog for success.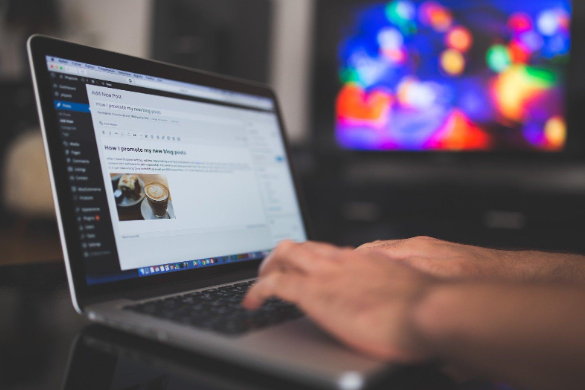 Understand Domain Name Basics
Before diving into specifics on choosing a great blog domain, let's review the key elements of a domain:
The domain name – This is the memorable part like 'copyblogger' or 'problogger'.
The top-level domain – Also called the TLD, this is the suffix like .com, .net, .org. Common TLDs are .com, .net and .org. Newer options include .blog, .me and .info.
Registrar – Domain registrars are companies authorized to sell domain names. Popular registrars include GoDaddy, Namecheap and Bluehost.
When you purchase a domain, you're paying the registrar an annual fee for the rights to that name. You'll need to renew each year to keep your domain. The registrar handles the technical domain registration while web hosting provides the storage space and bandwidth for hosting the files that make up your website.
Brainstorm Domain Name Ideas
Brainstorm a list of potential domain names. Think about keywords and phrases that describe your blog niche and topics. Come up with both broad ideas and more specific concepts. You can try:
Your name
Keywords related to your niche
Interests, hobbies or expertise
Location or geographical terms
Acronyms or combinations of words
Invented words or coined terms
Make a list of at least 10-20 different possibilities. Avoid limiting yourself to just a couple ideas in the beginning. Cast a wide net for maximum choices.
Check Domain Name Availability
Once you have brainstormed ideas, it's time to determine if the domains are available for registration. Visit a domain registrar like GoDaddy and type in your top choices one by one.
See which domain names are already taken. Eliminate any unavailable options. Narrow down your list to the 4-5 best available domain names. Whether your desired domain is still available can be easily checked by using tools such as the domain checker by IONOS.
Tip: Avoid getting your heart set on a domain that is already owned. Trying to purchase a taken domain can be pricey and complicated. Focus on available names only.
Pick a Domain Name that is Brandable

Choose a domain name that supports your overall brand and is flexible enough to encompass potential expansion. Here are factors to evaluate:
Memorable – Select a name that is short, catchy and easy to remember. Avoid complicated phrases or random words.
Descriptive – Pick a name that describes your blog niche or topics so visitors instantly understand the focus.
Scalable – Make sure the domain name allows room to grow beyond your initial blog into a larger personal media brand.
Fun – Consider a clever play on words or unique turn of phrase to make your domain stand out.
Adaptable – Opt for a name that gives you flexibility down the road to potentially expand into other websites or online properties.
Creating a brand means consistency. Choose a domain name aligned with your long-term blogging goals.
Verify Domain Name SEO Value
Conduct some keyword research using free SEO tools to determine if your prospective domain names have decent search volume and value. Prioritize names that match high-value keywords related to your niche.
Check Google Keyword Planner for average monthly searches. Confirm there is good traffic potential for the terms in your domain. Conduct searches on competitors using your top domains. See if those exact words produce relevant results.
Ideally select a domain name with inherent SEO value that matches worthwhile keyword searches. This can help you get found easier in search. But SEO relevance is just one factor to weigh along with branding appeal.
Select the Best TLD Extension

The most commonly used TLD domain extensions are:
-.com – The standard default for blogs
-.net – Typically used for networks or ISPs, but works for blogs
-.org – Originally for organizations, but now open for all use
-.blog – A newer domain just for blogs
-.info – Another open option similar to .org
-.me – Personable option for personal blogs
For maximum authority, .com has long been the go-to choice for blogs. It's widely recognized and trusted by visitors. But lots of great blogs succeed on other TLDs like .net or .org.
Consider TLD options like .blog or .me if available for newer domain possibilities. But don't feel limited to just .com. Weigh SEO, branding and availability to pick your best TLD.
Purchase your Domain Name
Once you've selected your domain name, it's time to buy! Most bloggers purchase their domain when signing up for web hosting. Popular blogging hosts like Bluehost, HostGator or SiteGround include a free domain name with hosting plans.
If you want to buy your domain separately, you can purchase directly from a domain registrar like GoDaddy or Namecheap. Costs range from $12-20 per year typically. Make sure to reserve your domain for at least 2-3 years initially for stability. Redirect your domain to point to your hosting account.
Congratulations on choosing the perfect domain name for your new blog!
Optimize Your Domain Name Selection
Follow these best practices when purchasing and optimizing your domain setup:
Brand match – Make your domain name consistent with social profiles, email and branding.
WHOIS privacy – Enable this at your registrar to hide your contact details.
Email – Set up an email like [email protected] and forward to your main email.
Redirects – If you previously owned related domains, set up 301 redirects pointing any old URLs to your new domain.
Subdomains – You can create subdomains later like forum.yourdomain.com or shop.yourdomain.com if useful.
Registering your domain name is an exciting first step to starting your blog. Choose wisely and optimize fully to give your site the best chance for success.
Tips for Choosing the Perfect Domain Name
Selecting your blog's domain sets the tone for your entire online presence. Follow these top tips for finding a domain name that delivers maximum impact:
Keep it Short
Shorter domains with fewer characters are easier to remember and type. Aim for brevity. One or two word names work best.
Make it Memorable
Catchy, clever names stick in people's minds better than complex phrases. Use alliteration, rhymes, plays on words or unique concepts to create a memorable impact.
Be Specific
Incorporate a keyword that directly relates to your niche or subject area. This helps visitors instantly understand your focus while also boosting SEO.
Consider Your Name
Your name or a version of it like 'johncookblogs' can give a personal touch. But only if it aligns with your brand identity.
Brainstorm Keywords
Make lists of popular keywords and phrases in your industry to spark domain ideas that make sense SEMantically.
Check Availability
Make sure to verify a domain is available before getting attached. Test top choices at a registrar like GoDaddy or Namecheap.
Assess Extensions
Compare TLD options like .com vs .net to see which extension best suits your domain for availability, branding and strategy.
Mind SEO Value
Research possible search volume and competition for your domain name keywords using Google's tools to maximize relevant organic traffic.
Envision Flexibility
Consider if your domain name gives you room to grow your online presence beyond just a blog in the future.
Align with Branding
Your domain should match your overall brand identity, personality and tone for continuity across platforms.
With careful selection using these tips, you can discover the perfect domain name to represent your blog both now and into the future.
Frequently Asked Questions
What is the ideal length for a blog domain name?
Between 5-20 characters is ideal. Very short (under 5 characters) or long names (25+ characters) tend to be less memorable. Aim for something short, punchy and catchy.
Should my blog domain include my niche keyword?
Including a relevant keyword can help describe your blog's focus for visitors while adding SEO value. But it's not strictly necessary if you create a memorable brand name instead.
Do hyphens in domain names help or hurt SEO?
Hyphens used to be seen as beneficial for SEO by separating keywords. But search engines now minimize their impact. Hyphens can also make a domain less readable. Only use if needed for a concise brand name.
What should I do if my perfect domain is taken?
If your first choice isn't available, try variations by changing the TLD (like using .net instead of .com), abbreviating words, or adding hyphens, prefixes or suffixes to find an open alternative that still captures your brand identity.
Is it better to use www in a domain name?
Technically using 'www' is optional in domains, as most sites will redirect to the same place. For SEO, it's a best practice to pick either a www or non-www version as the main domain and redirect any other versions to that primary one.
Should I buy domain privacy protection?
Yes, purchasing private domain registration helps protect your personal information, prevents spam mailings, and avoids your contact details being publicly searchable online. Most registrars offer privacy services.
How many years should I register my new domain for?
It's recommended to register your domain for at least 2-3 years when starting a blog. This reserves the name and prevents any lapse in ownership. Afterwards, you can renew for 1 year increments annually to maintain the domain long-term.
Can I change my blog domain name later?
You can change your domain name, but it takes effort. You'll need to redirect your old domain, shift email accounts, update all materials/links, and may lose some SEO value at first. It's better to put time into selecting the right domain initially.
What are the risks of choosing a domain name too similar to a big brand?
Naming a blog domain too close to an established brand's trademark can open you up to potential disputes or legal issues. Always research to ensure your domain doesn't infringe on others' rights.
Choosing your ideal domain name involves both crafting a brand identity and tapping into SEO strategy. By mixing creativity with targeted keywords, you can discover a blog domain name with maximum memorability and search visibility to propel your success. Using these naming tips will start you off on the right foot.
Disclosure: The articles, guides and reviews on BlowSEO covering topics like SEO, digital marketing, technology, business, finance, streaming sites, travel and more are created by experienced professionals, marketers, developers and finance experts. Our goal is to provide helpful, in-depth, and well-researched content to our readers. You can learn more about our writers and the process we follow to create quality content by visiting our About Us and Content Creation Methodology pages.