Email design reflects the way a business presents itself through email, and thus, it's important to have a good email design because it helps users identify with your brand. However, the header and footer, two of the most overlooked elements in email design, can make a substantial impact on your success rate as well as overall aesthetics. Based on the learnings at my email marketing company, I feel that my fellow marketers must harness the abundant conversion opportunities that email headers and footers bring.
In this definitive guide, we will discuss the importance of a good email header and footer design. We will also talk about some tips on how you can improve your email header and footer design in order to make them more attractive and effective. Let's get started:
What Is An Email Header And Footer
An email header is the set of information that shows up at the top of an email, usually including the sender's brand identity, functional links, rich multimedia, and a short yet defining piece of information regarding the message's agenda. This helps set the expectations right and attract the necessary level of reader attention in order to effectively communicate the email's purpose. 
An email footer, on the other hand, is the last block in your email design which needs to be as effective as the header and provide decent value while serving its set of functions. It must contain a significant takeaway for the recipient as opposed to treating it as a mere formality. Also, it must be compliant with the CAN-SPAM Act, which states that the footer must include a physical mailing address of the business sending marketing messages and empower recipients to control their email receiving preferences.
It is important for marketers to understand that the reptilian layer of the human mind processes only the beginning and the end for decision-making purposes in any situation. Hence, the header and the footer must be designed with utmost care and planning.
Best Practices For Designing Flawless Email Headers And Footers
Now that you know the exact role of email headers and footers, let us discuss how you can maximize their benefits while ensuring that they charm your recipients. In this section, we will go through some of the decisive tips that will help you excel at header and footer design but also ensure that they serve a larger purpose as valuable parts of your overall email design:
Email Header Design Tips For A Great Head Start

Your email header should be very much in sync with your brand's design language. It must contain your logo, brand colors, and preferably your tagline apart from any other elements that are closely knit with your company.

In terms of design, it must be appealing, easy to read, and easy to navigate since headers are meant to act as a doorway and not consume the readers beyond a certain point.

It may accommodate creative variations and improvizations, but your email headers must follow a consistent design language. No matter if you are sending a newsletter or a marketing email, your subscribers must be able to identify that it is a message from your brand. If they fail to recognize this by looking at your email header, chances are, they may find the email "spammy" and think that someone is trying to scam them by impersonating your brand. 

You must also include a "view in browser" link in your email header, as it adds convenience for your recipients when the email doesn't render properly on their device.

A preview line can also be added to your email header to supplement your subject line and provide more clarity.

You can also add navigational links in your header, especially in the case of promotional emails, as they help readers reach their desired product pages/offers quickly.
Email Footer Design Tips For A Solid Closing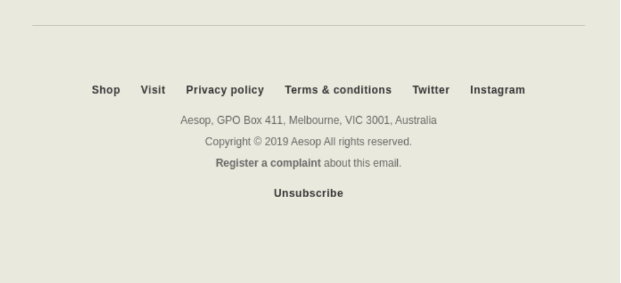 When designing your footer, make sure that it is simple for people to find your website, physical address, and email or phone number in case they need additional information or assistance.

Also, ensure to utilize a slightly different background color or padding for the footer so that it is distinguishable from the body content.

Don't bombard your subscribers with text-heavy paragraphs; they've already read your email and may need just a little more to act. Examine what information you need to include and provide additional links or text only if you truly feel that they would be beneficial.

You can also add links to social media, articles, or products but make sure they strictly complement the subject line of your email.

Incorporate information about marketing, copyright, and hyperlinks in your privacy policy if you want to look more professional in your email footer design.

The unsubscribe button must be prominently visible in your footer and compliant with CAN-SPAM and GDPR regulations.
Summing Up
Designing impactful email headers and footers that are appealing to the eye while still being easy to read can be challenging. There are many factors that go into designing a good email template, including the use of colors, fonts, images, and layout.
This is why it's important for an email marketing company, as well as other businesses, to get their team to develop a sound understanding that can ensure good email header and footer design standards.
Author: Kevin George is the head of marketing at Email Uplers, that specializes in crafting Professional Email Templates, PSD to Email conversion, and Mailchimp Templates. Kevin loves gadgets, bikes & jazz, and he breathes email marketing. He enjoys sharing his insights and thoughts on email marketing best practices on email marketing blog.
No tags for this post.No tags for this post.