Video content has exploded in popularity over the past few years. From YouTube tutorials to Instagram Reels, video is everywhere online. As a content creator, you likely want to make compelling videos that capture attention and grow your audience.
But shooting raw video footage is just the first step. To create a polished, professional-looking video, you need video editing software. With the right editor, you can splice clips together, add transitions, insert text, apply filters, and more.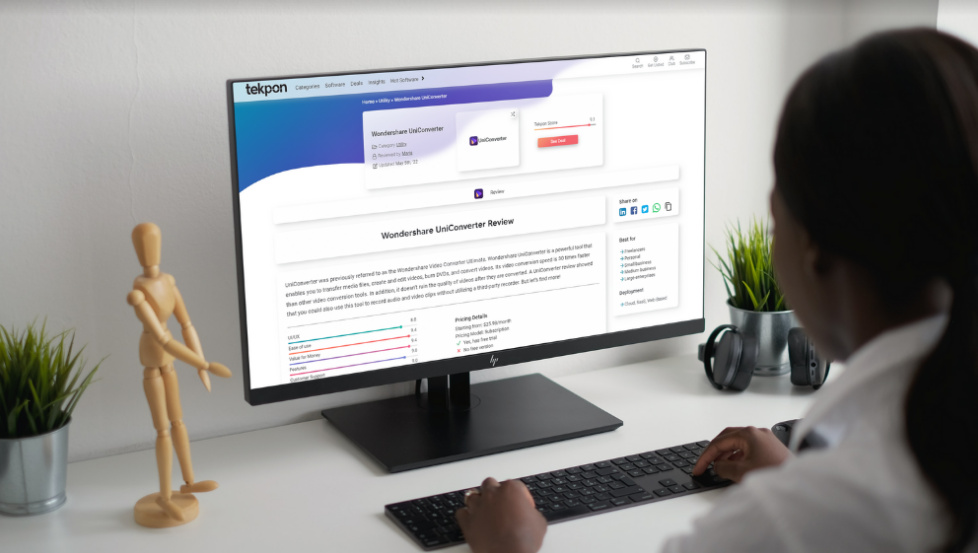 Choosing the best video editor for your needs boils down to a few key factors:
Ease of use – Some apps have simpler interfaces better suited for beginners, while others have more advanced capabilities.
Supported file types – Make sure the editor works with the video formats you shoot in.
Features – Assess what editing tools you need access to – trimming, effects, color correction, audio editing, etc.
Platforms – Web, desktop, mobile? Choose an editor compatible with where you'll be working.
Cost – Options range from free to paid subscriptions. Factor budget into your choice.
Why do we use media editors?
Processing is necessary as we have many commodities to eat but we eat them after washing, peeling them off, and cooking to make them fit our taste. In the same way, editing raw content is crucial to make it more attractive and engaging for the customers. The age of social media enhances the importance of editing due to an ever-increasing atmosphere of competition. Only unique, extraordinary, and effective content gets the attention of the audience. Therefore, pruning of the matter is necessary before its publishing on any media channel. 
How to edit the content?
There was a time when people had to hire expert editors of photos and videos. The clients had to spend a lot of money and the tension of waiting was a kind of mental stress. Now, the world has changed with mobile applications. There are editors which contain a complete video toolbox to facilitate the users with professional features. These applications can be used whenever and wherever you are without audio/video labs. Through these tools, editing is easy, effective, and economical for the young generation to prevail in the world of social media.
I've tested out numerous video editing apps over my years running a YouTube channel. Here are my top recommendations for media editors to use based on your experience level and needs:
For Beginners
1. Windows Movie Maker (Desktop)
If you're just getting started with video editing, Windows Movie Maker is a perfect choice. This free editor comes pre-installed on Windows computers, making it readily accessible. The interface is intuitive with a simple drag-and-drop timeline. You get all the basic tools you need – trimming clips, adding transitions, inserting text, and more.
Movie Maker supports common formats like MP4, MOV, and AVI. It's suitable for basic edits, but may feel limited once you gain more experience. Still, it's tough to beat the price and ease of use!
2. Quik (Mobile)
Quik by GoPro aims to make video editing fast and painless right from your phone. The app automatically finds cool moments in your clips to create edited videos synced to music. Pick a song, choose your clips, and Quik handles the rest. The QuikStories feature mashes up photos and videos from your camera roll into mini-movies.
You can customize Quik edits by rearranging clips, trimming, and adding titles. Picture-in-picture, filters, and transitions provide extra polish. Quik is easy to learn even if you've never edited before. The free version adds a watermark, but a paid upgrade ($2.99/month) unlocks additional features.
3. Adobe Spark (Web)
Adobe Spark is a free web and mobile app tailored for crafting short social media videos in minutes. The simple drag-and-drop editor makes it easy to combine videos, images, text, and music. Pre-made templates let you quickly customize videos for YouTube, Instagram, Facebook, and more.
Spark automatically resizes videos for different formats. You can stylize content with themes, colors, and fonts to match your brand. The app includes a library of stock photos, clips, and soundtracks you can use for free. While Spark lacks robust editing tools, its speed and simplicity make it ideal for eye-catching social posts.
For Experienced Users
4. Filmora (Desktop)
Filmora from Wondershare hits the sweet spot between pro-level software and lightweight beginner editors. It offers a smooth, intuitive interface packed with powerful features. The timeline-based editing rocks a drag-and-drop workflow. Filmora supports key functions like green screen, split screen, speed control, and motion tracking.
You get a library of stylish effects, transitions, filters, and title templates to elevate your videos. Filmora enables sophisticated color grading and audio tuning. Paid upgrades provide additional royalty-free music, stock videos, and advanced tools. For under $60/year, Filmora delivers pro editing capabilities in an accessible package.
5. Apple iMovie (Desktop/Mobile)
A longtime favorite, iMovie comes included free on Mac/iOS devices. Apple's intuitive editor helps you easily enhance video with professional touches. Import clips to create Hollywood-style trailers and dazzling home movies. The streamlined toolbar makes adding music, titles, transitions a breeze.
iMovie offers multi-camera editing to weave together footage from different sources. You can refine color balance, stabilize shaky video, and customize audio. The Trailers feature generates amazing movie previews from your raw clips. Support for 4K resolution and chroma key green screen boosts iMovie's capabilities. It's ideal for polished edits from your Mac or iPhone.
6. DaVinci Resolve (Desktop)
Ready to take your skills to the next level? DaVinci Resolve packs the full suite of professional editing tools for crafting cinematic films and videos. The free version supplies robust capabilities rivaling expensive software like Final Cut Pro. The node-based editing uses color correction tools modeled on Hollywood workflows.
You get over 250 special effects and transitions, multi-cam editing, Fusion VFX compositing, and the acclaimed Fairlight digital audio workstation. Advanced color grading, lens correction, audio mixing, and more enable incredibly refined edits. The learning curve is steep, but the payoff in production quality is immense if you can master DaVinci Resolve.
Key Features to Look For
Multi-track timeline editing – Arrange clips across layers to achieve complex edits.
Color correction – Adjust lighting, saturation, contrast to enhance video aesthetics.
Motion tracking – Add graphics, titles and effects that follow movement in a scene.
Chroma key – Superimpose foreground over new background footage via green screen technology.
Stabilization – Smooth out shaky, handheld camera footage.
Audio editing – Clean up and enhance soundtracks; add voiceovers, music beds.
Transition effects – Create immersive transitions between scenes – dissolves, wipes, zooms, etc.
Titling – Insert customizable text onscreen for opening/closing credits, captions, etc.
Rotoscoping – Isolate and edit specific regions of video footage frame-by-frame.
Keyframing – Animate graphics and effects over time by setting parameters at certain points.
5 Key Tips for Learning Video Editing
Watch video tutorials – Visual learners will benefit from seeing the workflows in action on YouTube or creative learning platforms like Skillshare.
Start simple – Don't get overwhelmed trying to learn everything at once. Stick to basic tools until they feel comfortable.
Follow project walkthroughs – Recreate step-by-step editing tutorials to get the hang of real workflows.
Play around – Don't be afraid to experiment once you grasp the fundamentals – that's how you'll discover techniques.
Practice consistency – Edit videos often to develop skills; repetition and regular editing sessions train your brain.
The right editing software helps unleash creativity and improve video production value. Whether you're filming on a smartphone or DSLR, the editors above can take your homemade clips to the next level. Don't be intimidated – with a little time and patience, you can learn video editing basics and start producing awesome content!
FAQ
What is the easiest free video editor for beginners?
For total beginners looking to learn video editing, Movie Maker (Windows) and iMovie (Mac) are two of the easiest free tools to start with. Both have drag-and-drop timelines and templates to quickly combine clips and add effects without technical complexity.
Is it better to edit videos on PC or Mac?
There are solid options for video editing on both PC and Mac. In general, MacOS offers better optimization and hardware acceleration for media editing tasks. But well-equipped Windows machines can certainly handle video editing as well. Popular tools like Adobe Premiere work on both platforms.
Is DaVinci Resolve worth learning?
DaVinci Resolve packs unbelievable professional-grade tools into its free version. The learning curve is high, however, and beginners may want to get comfortable with simpler editors first. But Resolve is incredibly powerful once mastered – equivalent to software costing thousands – so yes, it's worth the investment to learn.
Can I edit 4K video on my phone?
Many modern smartphones can record 4K video, but struggle with editing at such high resolutions. Look for apps like KineMaster, InShot and PowerDirector that support 4K editing on mobile. However, for the best performance, a desktop/laptop editor is recommended for 4K – try Filmora, Premiere Pro or Final Cut Pro.
How much does professional video editing software cost?
Paid professional editing programs range from about $100 (Filmora) up to $600+ (Final Cut Pro) as a one-time price, or $20-$50 per month for cloud subscriptions like Adobe Premiere Pro. However, DaVinci Resolve and Shotcut offer free versions with pro-level tools to rival expensive software.
What computer specs are needed for video editing?
8+ GB RAM, a discrete GPU, and quad-core processor are recommended minimum specs. For advanced 4K editing, 16+ GB RAM, 6+ core CPU like Intel i7/i9, and Nvidia RTX/AMD Radeon Pro graphics give the best performance. SSD storage and plenty of hard drive space are ideal for optimal speeds.
Is 32 GB RAM good for video editing?
For professional, high-resolution projects, 32 GB of RAM gives you lots of headroom for editing complex timelines, visual effects, color grading, and rendering. 16 GB may suffice for 1080p editing if you don't use too many GPU-intensive effects. But 32 GB ensures optimal performance with large video files.
What's better for editing – HDD or SSD?
SSDs are much faster, which improves editing workflow. Use a SSD for your OS, programs, active project files and media cache. Higher capacity HDDs serve well for archived projects and raw footage storage. Optimal setup is a 512GB+ SSD paired with large HDDs (2TB+).
What RAM speed is best for video editing?
Faster RAM improves performance in video editing and other media applications. 3200MHz CL16 or 3600MHz CL18 RAM provides the best price-to-performance for editing rigs. High-end systems may benefit from even faster memory up to 4600-5000+ MHz.
What software do professional YouTubers use?
Popular choices among top YouTubers include Adobe Premiere Pro, Final Cut Pro, and DaVinci Resolve for editing. After Effects, Photoshop, and Audition provide additional post-production capabilities. Many also use external tools like TubeBuddy, VidIQ, or SocialBlade to optimize YouTube performance.
Disclosure: The articles, guides and reviews on BlowSEO covering topics like SEO, digital marketing, technology, business, finance, streaming sites, travel and more are created by experienced professionals, marketers, developers and finance experts. Our goal is to provide helpful, in-depth, and well-researched content to our readers. You can learn more about our writers and the process we follow to create quality content by visiting our About Us and Content Creation Methodology pages.