Running a successful logistics business requires juggling many moving parts. From managing inventory to tracking shipments, the logistics industry relies heavily on data. This is where logistics software comes in. A good logistics software system can take your operations to the next level through automation and analytics. But with so many options on the market, how do you pick the right solution for your specific needs?
In this beginner's guide, we'll break down exactly what logistics software is. the key features to look for, and tips for choosing the best system for your company. Whether you're just starting out or looking to optimize existing workflows, read on to learn how logistics software can benefit your business.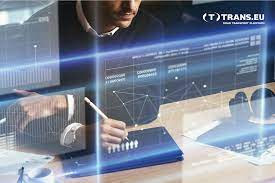 What Is Logistics Software?
Logistics software is technology designed to manage and optimize supply chain operations. It provides tools to oversee the entire order lifecycle, from inventory to shipment and delivery. Logistics software centralizes data and connects crucial processes to improve efficiency, lower costs, and meet customer expectations.
Some key capabilities of logistics software include:
Order Processing – Managing purchase orders, billing, invoicing, etc.
Warehouse Management – Tracking inventory, optimizing stock levels and picking routes.
Transportation Management – Planning delivery routes, carrier selection, freight audit.
Visibility & Reporting – Real-time tracking of orders, metrics and analytics.
Logistics software can be implemented on-premise using your own servers or deployed in the cloud and accessed online. Cloud-based systems offer more flexibility and scalability. On-premise options allow for greater customization to your workflows.

Benefits of Logistics Software
Implementing logistics software provides many advantages over managing supply chains manually. Some key benefits include:
Increased Efficiency
Logistics software automates routine tasks like order processing, inventory updates, and shipment booking. This eliminates repetitive manual work so your team can focus on high-value activities.
Better Scalability
Cloud-based logistics systems make it easy to scale your operations as your business grows. Built-in integrations allow you to connect new sales channels, warehouses and carriers seamlessly.
Enhanced Visibility
Advanced reporting and analytics provide real-time visibility across your supply chain. Pinpoint delays, bottlenecks and other issues to proactively improve performance.
Lower Costs
Automation, optimized routing, and freight audit tools reduce operational costs associated with manual processes, unnecessary steps and inflated shipping rates.
High Accuracy
Logistics software minimizes human errors that occur with manual data entry and paper-based tracking. This improves data accuracy and inventory management.
Better Customer Service
Customers receive more accurate order and delivery updates. Issues can also be promptly resolved with end-to-end supply chain visibility.
Key Features to Look For
With many solution providers in the market, choosing the right logistics software takes careful evaluation. Don't just go by claims on a vendor's website. Look for systems that offer these must-have features:
Order and Inventory Management
Track purchase and sales orders, update stock levels automatically and manage billing/invoicing from one centralized platform.
Warehouse Management
Optimize storage space, pick routes, packing and shipping processes for maximum productivity in your facility.
Transportation Management
Compare carrier rates, automate booking, generate labels/documents and track shipments from origin to destination.
Supply Chain Visibility
Gain real-time insights into inventory status, order location and delays with interactive dashboards and analytics.
Flexible Integration
Seamlessly connect software to your existing business systems like e-commerce platforms, ERP, POS and accounting software.
Mobility
Monitor and manage workflows anytime, anywhere via mobile apps for Android and iOS.
Customer Portal
Let customers track orders and communicate issues for better service without agent back-and-forth.
Scalability
Cloud-based systems allow quick, affordable scaling to support business growth and seasonal peaks.
Configurable Workflows
Adapt software to match your unique processes vs. changing workflows to fit rigid technology.
Prioritize must-haves that align with your biggest pain points and growth goals. The best software provides a customizable framework to support your needs as they evolve.
Tips for Choosing the Right Software
With key capabilities and vendor options in mind, follow these tips to choose logistics software that ticks all the boxes:
Start with Problems You Want to Solve
Don't get dazzled by bells and whistles. Focus on core problems like order delays, inventory shrinkage, manual data entry, etc. Let your pain points guide software selection.
List Must-Have Features
Note down essential functionality based on your needs, like order management, route optimization or customer portal access. This creates a checklist to evaluate solutions objectively.
Demo the Software
Go beyond free trials. Schedule demos to experience the platform hands-on before purchase. Demos reveal usability, flexibility and capabilities beyond basic trials.
Read Independent Reviews
Marketing materials can be misleading. Turn to reputable third-party sites for unbiased user reviews on pros/cons that demos won't highlight.
Assess Vendor Reputation
Choose an established vendor with proven success delivering logistics software, not just empty promises. Check their clientele and retention rate.
Consider Scalability Needs
Assess if the system can easily scale with your growth over the next few years based on your projections. Growing brands usually do better with cloud-based platforms.
Compare Implementation and Support
Factor in vendor reputation for smooth software implementation and ongoing support. Complex roll-outs and poor assistance can foil results.
By taking this strategic approach, it's possible to find affordable logistics software that enhances productivity, provides data-driven insights and sets your company up for sustainable growth. The effort pays off many times over.
Conclusion
Logistics software centralizes your operations for higher efficiency, lower costs and better customer service. But not all solutions are created equal. Focus on core pain points, create a features wishlist, thoroughly evaluate options and partner with a proven vendor. Investing in the right platform tailored to your needs delivers transformative results.
With smart technology, your supply chain can go from chaotic to streamlined and manual to automated. So don't settle for status quo inefficiencies. Leverage logistics software to gain the strategic edge that profit-leading companies enjoy. Take the first step by requesting demos from top-rated solutions that fit your must-have list.
FAQs
What are the main advantages of logistics software?
The main advantages are increased efficiency through automation, enhanced supply chain visibility and analytics, lower costs, improved customer service, easy scalability and higher accuracy.
Does logistics software replace human jobs?
No, logistics software optimizes workflows but critical thinking and customer service skills remain vital. It augments human capabilities rather than replacing them.
Is logistics software expensive?
Pricing varies based on features, customization and number of users. However, return on investment from cost and time savings generally exceeds software costs.
What features are most important in logistics software?
Key features include order/inventory management, warehouse management, transportation management, supply chain visibility, flexible integrations and mobility.
Should I use cloud-based or on-premise logistics software?
Cloud-based options are easier to implement, access and scale. On-premise allows for more control and customization but requires own IT infrastructure.
Can logistics software integrate with my other systems?
Yes, leading solutions offer open API to connect with existing e-commerce, ERP, accounting and other platforms you use.
How can I be sure logistics software is user-friendly?
Checking ease of use falls on you during demos. Turn to reviews for unbiased user feedback on the learning curve and interface.
How do I choose between logistics software vendors?
Compare solutions based on features, ease of use, implementation, support and vendor reputation. Let your pain points drive selection.
Disclosure: The articles, guides and reviews on BlowSEO covering topics like SEO, digital marketing, technology, business, finance, streaming sites, travel and more are created by experienced professionals, marketers, developers and finance experts. Our goal is to provide helpful, in-depth, and well-researched content to our readers. You can learn more about our writers and the process we follow to create quality content by visiting our About Us and Content Creation Methodology pages.