Welcome to our blog post on the VRIO analysis of Ryanair! When it comes to competitive advantages, airlines must constantly improve and innovate to stay ahead. Ryanair has been one of the most successful budget airlines in Europe with its low-cost business model.
However, does Ryanair have a sustainable competitive advantage? To answer this question, we need to conduct a VRIO analysis. In this piece of content, we will explore the four components of VRIO: Value, Rarity, Imitability, and Organization.
By learning about each part of VRIO, we can figure out what makes Ryanair different and how it can stay ahead of the competition in the future. Let's dive into the analysis!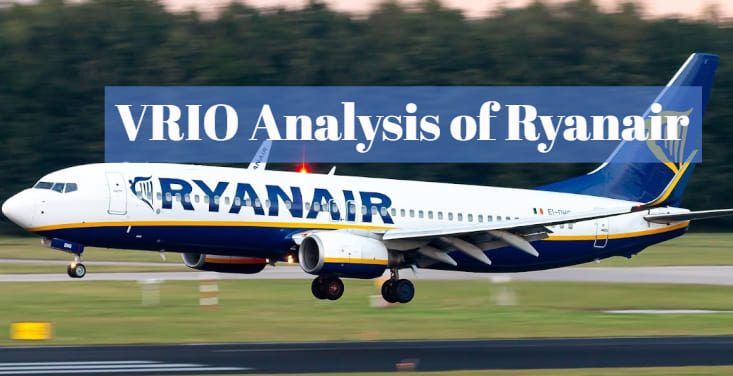 VRIO Analysis of Ryanair Holdings plc
This analysis will provide insights into the competitive advantage a company possesses over its competitors.
Valuable Resources of Ryanair
Valuable resources of Ryanair include their cost leadership business model, which allows them to offer low fares, and their efficient use of technology, such as online booking and self-check-in kiosks, which reduce costs and improve the customer experience. Their extensive network of routes and frequent flights also create convenience and value for customers.
It also has strong partnerships, which means that the airline has made deals with major players in the travel industry, like hotel chains and car rental companies, to work together.
Furthermore, their strong brand image, which is associated with reliability and punctuality, adds value to the company.
These resources have helped Ryanair keep its top spot in the market for low-cost airlines and bring in new customers, which has led to better financial performance and higher profits.
Rare Resources of Ryanair
Rare Resources of Ryanair play a crucial role in the assessment of the company's competitive advantages.
Ryanair's fleet, digitalisation, and location choices are some of the rare resources that help it achieve success. The company owns one of the youngest and most fuel-efficient fleets in Europe, which directly contributes to lower costs and higher profits.
Ryanair's digitalisation allows it to communicate with customers directly and tailor services as per their preferences.
The airline's decision to operate from secondary airports, rather than primary ones, is also a rare resource. This move allows Ryanair to negotiate better deals with smaller airports and avoid congestion, ultimately resulting in more affordable prices for its customers.
The combination of these rare resources enhances the company's ability to maintain a low-cost strategy, which is one of Ryanair's core competencies.
Therefore, the presence of these rare and valuable resources places Ryanair in a strong position to obtain a sustainable competitive advantage over its rivals.
Inimitable Resources of Ryanair
In the VRIO analysis of Ryanair, it has been found that some of the airline's resources and capabilities are inimitable, meaning that competitors cannot easily replicate them.
Ryanair's cost leadership strategy is underpinned by a number of inimitable capabilities, including their efficient operational processes, agile decision-making capabilities, streamlined organizational structure, and customer-focused innovation.
Additionally, Ryanair's trade name recognition is also considered an inimitable intangible asset.
These skills have been developed and improved over time, making it hard for competitors to copy them without putting in a lot of time and money. Ryanair has been able to keep its position as one of the best low-cost airlines in Europe by making the most of these unique assets.
Organization Resources of Ryanair
The organisational resources of Ryanair are crucial in determining the competitive advantage of the company.
The airline has a lean organizational structure, which enables it to maintain low costs and offer affordable prices to its customers. Ryanair's management team boasts of experience and competence that has helped to streamline the airline's processes and maintain efficient operations.
Additionally, the company has a robust IT infrastructure that enables it to automate most of its processes, including online reservations, check-in, and ticketing.
Ryanair has also spent money on marketing and advertising to get more people to know about its brand and stay loyal to it. The effective use of these resources has enabled Ryanair to gain a competitive advantage over other airlines in the industry.
Potential Threats to Ryanair Resources and Competitive Advantages
Ryanair's market share could be at risk if new airlines emerge, offering comparable services at more affordable rates.
Additionally, changing regulations and policies in the aviation industry, such as increased taxes and fees or restrictions on flight routes, could negatively impact Ryanair's profitability and competitive position.
Competition from larger airlines with greater financial resources and economies of scale could also pose a threat to Ryanair's continued success. As such, it is important for the company to remain vigilant and adaptable in order to protect its valuable resources and competitive advantages from potential threats.
What are Ryanair's Competitive Advantages
Ryanair has several competitive advantages that have helped the airline to establish its position as a leading low-cost carrier in Europe.
The company's focus on cost minimization through operational efficiency and ancillary revenue streams has allowed it to provide the cheapest airline service within the industry.
Moreover, Ryanair's strong online booking system and effective route network planning have helped it to maintain a large market share in the region. The company's resources, such as its experienced management team, low-cost workforce, and vibrant corporate culture, have also played a crucial role in its success.
Furthermore, the company's commitment to sustainable fuel and emissions practices has helped it to establish a positive brand image and gain a competitive advantage over its rivals.
Final Thought
In conclusion, the VRIO analysis of Ryanair indicates that the company possesses valuable, rare, and inimitable resources that can help it develop core competencies and competitive advantages. Ryanair's low-cost business model and operational efficiency are key strengths that have enabled it to maintain its position as one of the leading low-cost airlines in Europe.
Overall, the VRIO analysis demonstrates that Ryanair has a strong foundation for its strategic positioning and can continue to succeed in the highly competitive airline industry.
Disclosure: The articles, guides and reviews on BlowSEO covering topics like SEO, digital marketing, technology, business, finance, streaming sites, travel and more are created by experienced professionals, marketers, developers and finance experts. Our goal is to provide helpful, in-depth, and well-researched content to our readers. You can learn more about our writers and the process we follow to create quality content by visiting our About Us and Content Creation Methodology pages.