Are you curious about how PepsiCo has maintained its competitive advantage in the highly dynamic and competitive market?
A VRIO analysis could be the answer you're looking for. VRIO analysis is a strategic tool that helps businesses evaluate their resources and capabilities to determine their competitive advantage.
In today's topic, we will conduct a concise VRIO analysis of PepsiCo to understand how it has stayed ahead of its competitors.
From valuable resources to inimitable capabilities and organized structures, we'll explore the various factors that have contributed to PepsiCo's success. So, join us as we take a deep dive into the PepsiCo VRIO analysis  and uncover the secrets to its sustained growth and profitability.
VRIO Analysis For PepsiCo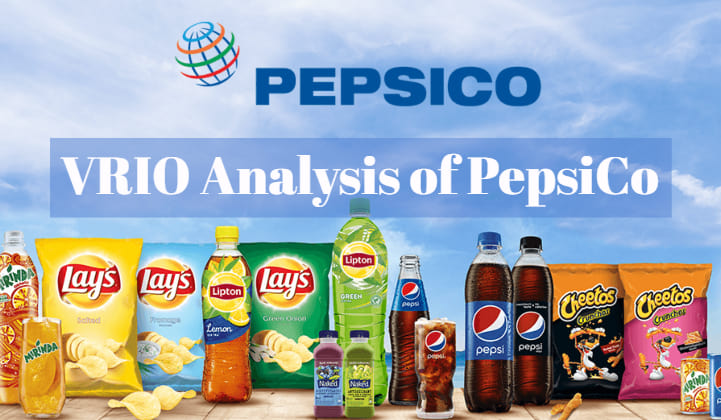 Valuable Resources of PepsiCo
The valuable resources of PepsiCo are a significant contributor to the company's sustainable competitive advantage.
In the VRIO analysis of PepsiCo, it was identified that the employees of PepsiCo are a valuable resource to the firm. The company has a workforce that is diverse, talented, and committed to the success of the company. PepsiCo's skilled employees have helped the company achieve a high level of innovation, productivity, and efficiency.
Additionally, PepsiCo's strong brand name and reputation among consumers are valuable resources that have helped the company create a unique identity in the market.
By leveraging these valuable resources, PepsiCo can continue to compete effectively in the highly competitive beverage industry.
Rare Resources of PepsiCo
The Rare Resources of PepsiCo is a vital component of its sustainable competitive advantage. The ability to create products that are unique and difficult to imitate is essential for maintaining a competitive edge.
PepsiCo has a strong brand reputation that has taken years to establish, and it is not easy for competitors to replicate that level of brand recognition.
In addition, PepsiCo has an extensive distribution network, which is difficult for competitors to mimic. It has contracts with key retailers, which limits access to those channels for competitors.
 Furthermore, PepsiCo has exclusive agreements with some of its suppliers, which gives it access to raw materials that others cannot get.
These rare resources are valuable assets for PepsiCo, and they play a critical role in its success. With the help of the VRIO tool, PepsiCo can leverage these resources to stay ahead of the competition in the long run.
Inimitable Resources of PepsiCo
Inimitable resources are those that are unique to a company and cannot be easily replicated by competitors.
For PepsiCo, one inimitable resource is their brand reputation. PepsiCo has been around for over 100 years and has established a strong brand identity that is recognized around the world. This popularity of the brand can be exploited to diversify into new markets and product lines.
Another inimitable resource for PepsiCo is their extensive distribution network. This helps them in reaching out to more and more customers, making it difficult for competitors to match their reach. By leveraging its resources effectively, PepsiCo can continue to maintain a competitive advantage in the market.
Organization Resources of PepsiCo
Organization resources refer to the internal processes, structures, and culture that enable a company to efficiently and effectively manage its valuable resources.
PepsiCo has a strong organizational structure that enables it to maximize the value of its resources. The company has a clear vision and mission that is communicated to all employees, a well-established corporate culture that promotes innovation, and effective management practices that align with the company's objectives.
In addition, PepsiCo has invested heavily in technology, enabling it to streamline its operations, enhance its supply chain management, and improve communication within the organization.
These organizational resources have helped PepsiCo to achieve a competitive advantage by leveraging its valuable and rare resources to create products that cater to a wide range of consumers.
Potential Threats to PepsiCo's Resources and Competitive Advantages
Coca-Cola, Nestle, and Dr. Pepper Snapple are some of PepsiCo's biggest competitors, and they all offer strong competition. These companies also have well-known brands, different products, and economies of scale that could stop PepsiCo from gaining market share and making more money.
PepsiCo also has to deal with problems when it comes to changing consumer tastes towards healthier and more environmentally friendly products. PepsiCo has put money into making its products healthier and reducing waste, but environmental groups and people who care about health still criticise it.
Because of these problems, PepsiCo has to keep coming up with new ways to manage its resources, improve its marketing strategies, and form new partnerships in order to stay ahead of the competition and address social issues.
What are PepsiCo's Competitive Advantages
PepsiCo's competitive advantages lie in its valuable and rare resources, primarily its distribution network.
The VRIO analysis has helped PepsiCo assess and evaluate its resources, which has allowed the company to build a sustainable competitive advantage based on these resources.
In addition to its distribution network, PepsiCo's strong brand name and cost leadership strategy also contributes to its competitive advantages.
Final Thought
The final thought on the VRIO Analysis of PepsiCo is that the company has numerous valuable, rare, inimitable, and organisational resources that have provided it with sustainable competitive advantages. PepsiCo's tremendous financial resources have enabled it to invest in external opportunities and acquire other valuable resources.
Disclosure: The articles, guides and reviews on BlowSEO covering topics like SEO, digital marketing, technology, business, finance, streaming sites, travel and more are created by experienced professionals, marketers, developers and finance experts. Our goal is to provide helpful, in-depth, and well-researched content to our readers. You can learn more about our writers and the process we follow to create quality content by visiting our About Us and Content Creation Methodology pages.