Booking a meeting venue is an important part of event planning. The right space can make your conference, training session, or corporate retreat more productive, interactive, and enjoyable for attendees. But finding that perfect spot takes some savvy researching and comparison of options.
Renting meeting rooms might seem straightforward on the surface, but there are many factors at play. Is the room large enough for your headcount? Does it offer the tech and amenities you'll need? Is the location convenient for your team? Does it fit within your budget?
Asking the right questions ahead of time will save you headaches down the road. It ensures you don't end up scrambling for solutions the day-of your event. Plus, you'll have greater confidence you chose an optimal, cost-effective option tailored to your unique gathering.
This guide will explore the top 8 factors to evaluate when renting a meeting space so you can make the best choice for your next conference, training, board meeting, or other essential event. Let's get started!
Key Factors to Consider When Renting a Meeting Space
The best place to get the space should have all the necessary facilities to make the attendees happy. Here are other issues to check out before booking the meeting space rental: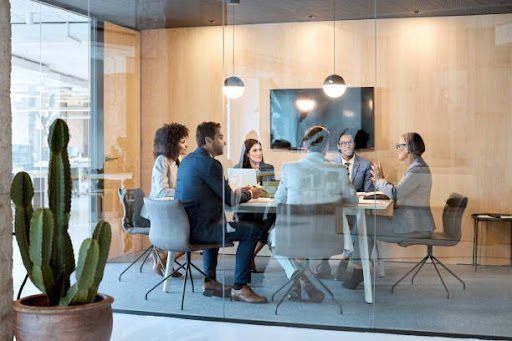 1. Size and Room Capacity
One of the first factors to nail down is the number of attendees you anticipate. Will it be an intimate roundtable discussion for 15 people? A department-wide training for 80? Or a large regional conference with 500 participants?
Many venues list their room capacity or square footage. Make sure to rent a space that's suited for your expected headcount, factoring in desired seating arrangements and configurations. A room that's too small can feel cramped and inhibit group activities. But one that's too spacious wastes money and resources.
Ask the venue if certain dates are more in demand to get a realistic idea of availability if you're expecting a large turnout. Know that capacity may fluctuate if you're providing a stage, presentation screen, or food tables.
2. Room Layout and Set-Up Options

Along with size, consider which types of room configurations will best suit your meeting agenda, activities, and attendee engagement goals. Many venues offer several possible room layouts included in the rental fee.
Some common options are:
Theater: Ideal for lectures with rows of seats facing a stage or screen. Allows more capacity.
Classroom: Participants face the front with space for group work. Allows moderate capacity.
U-Shape: Tables are arranged in a U with open space in the middle. Promotes discussion.
Hollow Square: Tables are arranged in a square shape with an open middle. Facilitates debate.
Boardroom: A long table with seats on two sides. Traditional for executive meetings.
Banquet: Round tables seating 6-10 people each. Works for dining or group interaction.
Consider which set-up will be needed for presentations, group breakouts, meal service, mingling, etc. Many venues also provide conference support staff to help rearrange furnishings between segments.
3. On-Site Technology and AV Equipment
Most meetings require a minimum level of audio-visual tech these days. Evaluate what equipment is included standard with the room rental vs. what's available for an added cost. Common A/V needs are:
High-speed WiFi
Microphones and speakers
Projectors and screens
TV monitors
Sound systems
Lighting options
Interactive whiteboards
Video conferencing capabilities
Charging stations
Laptops, clickers, and accessories
Don't assume a venue will have what you require. Ask detailed questions to learn exactly what tech is on-site to avoid surprise fees. Also check if on-site IT support is available in case of glitches.
4. Catering, Refreshments, and Dining Options
Food and beverages make any meeting more enjoyable while keeping energy and focus high. See what's included or permitted for self-serve snacks, buffet spreads, plated meals, coffee breaks, etc.
Many hotels and convention centers have in-house catering with set menus. But some venues allow you to bring in your own preferred caterer or restaurant. This gives you extra flexibility on cuisine, dietary needs, and costs.
If providing meals, clarify how food tables, linens, serving pieces, and cleanup are handled. Can the facility accommodate receptions, banquets, or food prep on-site if needed? Addressing dining details upfront ensures smooth service.
5. Location and Accessibility
An easily accessible location tops most planners' lists. Analyze distances from airports, parking availability, public transit options, highway access, etc. This ensures attendees can conveniently get there without hassles.
Also look at what's nearby that participants can enjoy during free time. Walkable restaurants, shops, parks, and amenities make for a fuller experience.
Of course, many meetings are now hybrid with some joining remotely. So reliable tech for streaming or video calls is key. Make sure the venue's bandwidth, equipment, and setup can support hybrid events.
6. On-Site Amenities and Services
Beyond the core meeting space, look at bonus features that add comfort, productivity, and enjoyment. Possibilities include:
Lounges, networking areas, patios, or outdoor space
Business center access
Free parking or valet
Guest rooms or room blocks if a multi-day event
Fitness center, spa, or pool on-site
Discounts for nearby attractions
Welcome desk, conference planners, or concierge
Secure storage space
Coat check or luggage holding
Shuttle buses around town or to the airport
Extra amenities like these enhance the experience and convenience for attendees. See what's available or what can be arranged through the venue for a customized meetup.
7. Pricing and Budget
Of course, cost is a major factor when selecting a venue. Prices vary widely based on location, size, amenities, seasons, and days of the week. Clarify exactly what's included in the base rental rate and where you may accrue additional costs.
Ask if discounts may be available for non-profits, weekdays, full-day rentals, off-season dates, or multi-year contracts. Inquire about deposit amounts and payment procedures too.
Get quotes from multiple venues to comparison shop. But also consider the value beyond pure dollar amounts. A space well-suited to your event is ultimately worthwhile, even if slightly above budget.
8. Ambiance, Decor, and Overall Feel
Lastly, imagine how your attendees will experience the space. Is the venue professional yet welcoming? Will its decor and vibe align with your company or event brand?
Factor in elements like:
Architectural aesthetics and design
Furnishings and seating comfort
Acoustics for presentations or networking
Lighting, artwork, and accents
Indoor air quality and temperature control
Accessibility for those with disabilities
Overall atmosphere and first impression
Even small touches like music, plants, color schemes, or minor decorations can customize a venue to your style. Don't be afraid to ask about transforming a basic conference room into something special through personalized flourishes.
Key Takeaways
Booking a meeting room rental involves much more than capacity and square footage. To choose the optimal space for your event, thoroughly compare options across these 8 factors:
Size and capacity
Layout configurations
On-site technology
Catering and dining
Location and accessibility
Amenities and services
Pricing and budgets
Ambiance and aesthetics
Ask venues detailed questions to understand what's included, where you may incur additional fees, and how they can meet your group's unique needs. Evaluate spaces based on total value, experience, and alignment with your goals.
By researching these elements in advance for your next conference, training, or corporate meetup, you'll make the best match and avoid unwelcome surprises. With strategic planning guided by these tips, you'll host seamless events in spaces everyone enjoys.
Frequently Asked Questions
What are the most important factors when choosing a venue?
The top factors are usually size to accommodate your expected attendees, layouts to support your agenda, on-site AV tech and equipment included, location convenience, and pricing that aligns with your budget. Catering options, amenities, ambiance and accessibility are also key points to assess.
How much ahead of time should I book an event venue?
Ideally 6-12 months in advance for large conferences and corporate events. 3-6 months out for smaller meetings and trainings. This ensures you get your preferred dates and space. Fridays and Saturdays often book up a year or more in advance.
Should I get quotes from multiple venues?
Yes, comparing 3-5 venue quotes helps you find the best fit at the best price. But also look beyond pure dollar amounts at value based on experience, convenience, suitability to your needs, and inclusions vs. add-ons.
What questions should I ask when touring potential venues?
Key questions include: exact capacity, what AV/tech is standard, catering policies, discounts available, layout options, parking, hybrid event support, concessions, liability, deposits/payment procedures, and any restrictions or limitations.
How can I customize a basic meeting room?
Many venues allow minor decor like tablecloths, signage, centerpieces, branded swag at seats, theme lighting, music, printed menus, etc. Some also let you bring in additional rental furnishings, audio-visual, pipe and drape, and other enhancements.
What is the #1 mistake people make when booking a venue?
Not researching thoroughly upfront. It leads to unpleasant surprises about restrictions, fees, capacity, tech, or other important details. Also, underestimating headcounts or overbooking space risks problems accommodating attendees comfortably. Ask all questions before signing contracts.
How can I create a memorable experience through the venue?
Unique spaces, branding elements, theme decor, interactive activities, entertainment, excellent catering, outside-the-box room layouts, and customizable details all enhance the experience. Little touches go a long way in delighting attendees.
What should I ask about audio-visual equipment?
Get a detailed list of what's included standard with the rental, from WiFi speed to projection, sound systems, and more. Clarify what's available for additional fees if needed and what technical support is on-site. Do thorough A/V checks well before the event start time.
How can I determine appropriate room size?
Ask about standard room layouts and how many people they accommodate comfortably. Factor in if you'll have food tables, bars, stages, or lounges taking up space as well. Pad estimates a bit to plan for larger than expected turnout and flexibility.
Disclosure: The articles, guides and reviews on BlowSEO covering topics like SEO, digital marketing, technology, business, finance, streaming sites, travel and more are created by experienced professionals, marketers, developers and finance experts. Our goal is to provide helpful, in-depth, and well-researched content to our readers. You can learn more about our writers and the process we follow to create quality content by visiting our About Us and Content Creation Methodology pages.