Emirates Airlines is one of the largest and most successful airlines worldwide. With a fleet of over 260 aircraft and over 150 destinations, it has become a UAE-based airline with a global reach. To maintain its position as a market leader, Emirates has to continually examine its internal resources and capabilities to ensure its sustainable competitive advantage.
 A VRIO analysis of Emirates can help us understand the company's strengths, weaknesses, opportunities, and threats.
In this blog post, we will conduct a VRIO analysis of Emirates Airlines to understand how it creates and sustains its competitive advantage in the industry.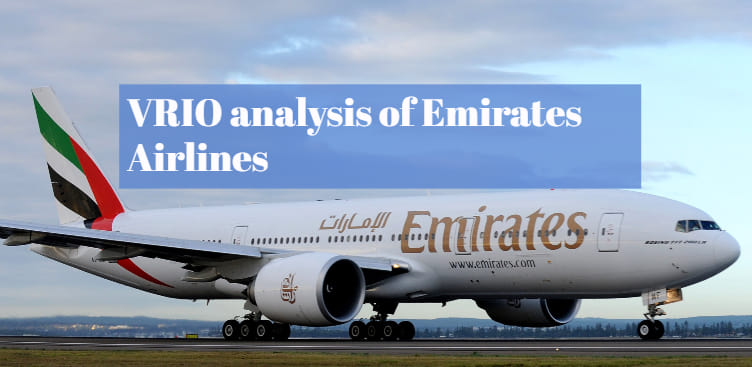 Emirates Airlines' VRIO Analysis
In this section, we will introduce the VRIO tool, its significance, and its application to Emirates Airlines to assess the resources that contribute to its competitive advantage.
The VRIO analysis will enable us to discover the valuable, rare, inimitable, and organization resources that Emirates Airlines possesses, contributing to its success.
Valuable Resources of Emirates Airlines
Emirates Airlines has several valuable resources that contribute to its success in the highly competitive aviation industry.
One of its most valuable resources is its brand reputation for luxury and customer service. This has been achieved through many years of investment in its fleet, in-flight experience, and frequent flyer program, making it very attractive to high-value business travellers.
Furthermore, the airline has a robust operational infrastructure that allows for seamless connectivity between its vast network of destinations.
Additionally, Emirates' financial resources are essential as they provide the flexibility required to invest in new aircraft, infrastructure, and other expansion opportunities.
Overall, these valuable resources enable Emirates to create a unique value proposition for its customers leading to a competitive advantage in the market.
Rare Resources of Emirates Airlines
Emirates Airlines boasts of several rare resources that have given it an edge in the highly competitive airline industry.
The company has been quick to adopt advanced technology in its operations, from online booking systems to in-flight entertainment options, giving it a significant advantage over its competitors. Other rare resources are;
1. Unique Network: It also has a unique network that covers a vast geographical area, which makes this resource rare.
2. State-of-the-art Technology: Emirates Airline uses state-of-the-art technology, which is rare in the airline industry.
3. Exceptional Customer Service: Emirates Airlines' exceptional customer service is one of their rare resources, which sets them apart from other airlines.
4. Highly trained Personnel: Emirates Airlines has a team of highly trained personnel, which is rare in the airline industry.
5. Emirates Airlines has patents that are rare in the airline industry, which gives them an edge over their competitors.
6. Brand Reputation: Emirates Airlines has a reputation for providing quality service, which is rare in the airline industry.
Inimitable Resources of Emirates Airlines
The inimitable resources of Emirates Airlines are those resources that are difficult to imitate, replicate or substitute. These resources contribute to the airline's competitive advantage and are unique to Emirates Airlines.
For instance, Emirates Airlines has an excellent employee training program, which ensures that its employees deliver high-quality service to its passengers.
Additionally, the airline's brand reputation is another inimitable resource that took years to build and is not easy for competitors to replicate.
Similarly, the airline's state-of-the-art technology used in its aircraft and its customer service systems is another inimitable resource.
These resources have helped Emirates Airlines to build a sustainable competitive advantage and differentiate itself from its competitors.
Organization Resources of Emirates Airlines
Emirates Airlines' organization resources are one of its biggest strengths. The company has a strong organizational structure that supports a culture of innovation and excellence.
The company's top-level management, skilled workforce, and brand reputation are significant resources that enable the successful operation of the airline. The company's employees are trained to provide the highest level of customer service, further augmenting the organization's resources.
Emirates Airlines' investment in modern communication technology and its advanced booking systems is an added advantage to the organization, facilitating efficient and seamless booking processes for travellers.
In addition, the company's corporate and business strategy emphasizes the importance of continuously improving its organisational resources, which is supported by its VRIO analysis.
By focusing on its organizational resources, Emirates Airlines is well-positioned to compete against other airlines in an ever-changing and dynamic industry.
Potential Threats to Emirates Airline Resources and Competitive Advantages
One of the biggest threats is the increasing competition from low-cost carriers that offer cheaper fares and similar services. This could impact Emirates' bottom line, as customers may opt for lower-priced options instead.
Additionally, technological advancements could make certain resources or competencies obsolete if Emirates fails to keep up with the latest trends.
Another potential threat could be disruptions in global travel due to natural disasters, political instability, or pandemics, which could impact the airline's operations and revenue.
However, with careful planning and strategic foresight, Emirates could mitigate these threats and continue to maintain its position as one of the world's leading airlines.
Final Thought
In summary, the VRIO analysis of Emirates Airlines emphasizes the importance of possessing valuable, rare, and unique resources in order to develop a lasting competitive advantage. According to an analysis of the airline's resources, its personnel are a significant resource, and its utilization of innovative technology and great customer service are fundamental qualities that competitors find difficult to mimic.
Disclosure: The articles, guides and reviews on BlowSEO covering topics like SEO, digital marketing, technology, business, finance, streaming sites, travel and more are created by experienced professionals, marketers, developers and finance experts. Our goal is to provide helpful, in-depth, and well-researched content to our readers. You can learn more about our writers and the process we follow to create quality content by visiting our About Us and Content Creation Methodology pages.