The VRIO analysis is a strategic tool that is widely used for evaluating a company's resources, capabilities, and competitive advantages. Alibaba Group, one of the largest e-commerce companies in the world, also undertakes the VRIO analysis to assess its resources and develop a sustainable competitive advantage.
This blog aims to provide an overview of Alibaba's VRIO analysis and how it helps the company in achieving its goals.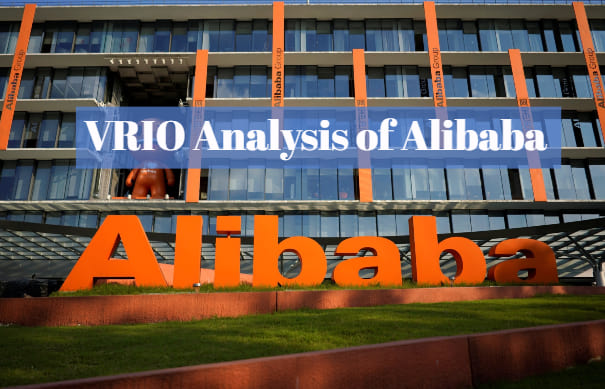 VRIO Analysis of Alibaba Group
In this section, readers will learn about the valuable, rare, inimitable, and organizational resources of Alibaba, and how these resources contribute to building competitive advantages. Moreover, this blog will highlight potential threats to Alibaba's resources and discuss what makes Alibaba one of the strongest industry players.
Valuable Resources of Alibaba
Here, we dive deeper into the specific valuable resources that have contributed to the company's competitive advantage. A significant valuable resource of Alibaba is its brand image, which is globally recognized as a symbol of trust and reliability.
The company's market share dominance in China's e-commerce industry is also an essential valuable resource that has enabled Alibaba to access a large customer base, generate higher revenue and maintain its position as a market leader.
Additionally, Alibaba's strong strategic partnerships with key players in the industry have facilitated access to innovative technologies and resources, providing the company with a competitive edge.
 These resources have enabled Alibaba to achieve a higher level of profitability and robust growth in earnings, thus strengthening its position in the industry.
Rare Resources of Alibaba
As established in the Alibaba VRIO analysis, the distribution network of Alibaba is an exceptionally rare resource. Due to the company's significant investment in logistics, it enjoys unparalleled capabilities to deliver goods to customers with superior efficiency and speed.
As an outcome of the company's unique distribution network, competitors would require a considerable amount of funds and time to replicate this resource fully.
Therefore, this rare resource gives Alibaba an edge in the marketplace by affording it a strong competitive advantage over its rivals.
By identifying such resources, Alibaba can now prioritize and allocate resources towards maintaining and enhancing its unique strengths. It is essential to note that this rare resource is one of many factors that contribute to Alibaba's long-running commercial success.
Inimitable Resources of Alibaba
Alibaba has numerous inimitable resources that contribute to its competitive advantage.
For instance, its proprietary technology and data analytics help it to conduct extensive market research that it can use to identify customer needs and come up with innovative products and services.
Additionally, Alibaba invests heavily in research and development to ensure that it stays ahead of the competition. Its cross-border logistics system, Cainiao, is an example of cutting-edge technology that not many of Alibaba's competitors have been able to duplicate.
Furthermore, Alibaba has a robust and unique online payment system, Alipay, which enables users to conduct secure and quick transactions.
Alibaba's investment in technology and software is an example of the inimitable resources that enable it to maintain its competitive edge.
Organization Resources of Alibaba
The organisational resources of Alibaba play a crucial role in its success. The company has a well-established organizational structure that enables it to operate efficiently.
This includes a strong leadership team and a highly skilled workforce comprising over 100,000 employees.
Additionally, the company's corporate culture encourages innovation, problem-solving, and teamwork, which creates a positive work environment and enhances employee productivity.
 Alibaba's organizational culture and structure have also enabled the company to capitalize on new business opportunities quickly.
Overall, the company's organizational resources are vital to its competitive advantage, enabling it to operate optimally and maintain its leadership position in the e-commerce industry.
Potential Threats to Alibaba Resources and Competitive Advantages
Despite the numerous strengths and advantages that the VRIO Analysis has identified for Alibaba, the organization also faces potential threats to its resources and competitive advantages.
Firstly, global trade wars and government regulations could impact the company's supply chain and international expansion, which could threaten its financial resources and distribution capabilities.
Moreover, the intense competition from other e-commerce giants such as Amazon and eBay could result in imitation risks and intense price wars, leading to a potential loss of valuable customers. Finally, Alibaba will need to continually invest in new technologies and innovation to remain ahead of competitors as new market entrants emerge.
These challenges underline the continued importance of an ongoing strategic evaluation of Alibaba's resources and organizational capabilities to build and maintain its sustained competitive advantage.
Final Thought
The VRIO analysis of Alibaba shows that the company possesses valuable, rare, and inimitable resources that have contributed to its sustainable competitive advantage. The highly trained workforce is one of the valuable resources of Alibaba, which has played a significant role in the company's success. Additionally, the company's advanced technology, services, and organizational resources have also given it a competitive edge in the industry.
Disclosure: The articles, guides and reviews on BlowSEO covering topics like SEO, digital marketing, technology, business, finance, streaming sites, travel and more are created by experienced professionals, marketers, developers and finance experts. Our goal is to provide helpful, in-depth, and well-researched content to our readers. You can learn more about our writers and the process we follow to create quality content by visiting our About Us and Content Creation Methodology pages.