Over the past couple of years, it has developed rapidly. The collection of new mobile devices and operating systems presents a constant challenge for game developers. It raises their own bar and creates better, faster and more immersive games every time. Nowadays there are effective game development tools. They are actively used in the development process.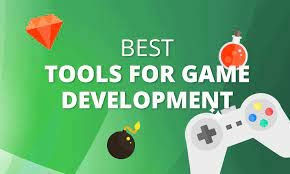 Why game developer need tools
The game engine is the heart of the computer game and the central tool of the game developer. Central, but not the only one – without a three-dimensional graphics editor, a program for creating animated characters, a sound editor, a tool for creating levels, a font design tool and much more, the work of an indie developer would simply be impossible. Modern game development agency actively use instruments up to the request of the exact client.
Popular tools that every game developer use
These are the most popular tools used by developers. They help to create high-quality products and make any, even the most difficult idea. And it's true.
Construct 2
It's one of the best game development tools nowadays. Construct 2 is a 2D game builder for Windows that allows you to create amazing games of any genre and complexity. And no need to have any programming skills!
Ideal for beginners and powerful enough for professionals to create any kind of 2D game faster than ever before.
Construct2 is much more complex than Scratch. And it is therefore not suitable for young children and is not used for primary education. On the other hand, it is a fairly simple tool capable of creating professional games. A huge number of professional games on Google PLAY have been created in Construct 2.
ProBuilder
Unity has announced a powerful new addition to the level design toolkit: ProBuilder, PolyBrush and ProGrids. Initially, this tool was developed separately. And it was presented as a plug-in for Unity. But now the tool itself and the developers are directly part of Unity.
ProBuilder is a prototyping tool for Unity editor that has everything you need to build a game level and create new game worlds in no time.
ClickTeam Fusion 2.5
Clickteam Fusion is a 2D game constructor for various popular platforms from Clickteam, which has been producing similar programs for many years. Actually, Clickteam Fusion is a reincarnation of another game constructor, Multimedia Fusion 2, which stopped developing in December 2013. At that time Clickteam Fusion 2.5 was released. This constructor is not limited to the genre and platform affiliation of the games developed in it. And it's used for 2d art outsourcing.
Stencyl
Stencyl is a powerful and flexible toolkit for creating 2D flash toys. It allows you to quickly and efficiently create and share them with other people. Previously, the constructor was called StencylWorks. But after introducing a number of updates and merging its different branches, the developers decided to truncate the name just to Stencyl.
Stencyl is not just an application development software. But it's a set of tools that makes creating an application easier by allowing you to concentrate on the essentials. In this case, there is no need to write the code yourself. All you need is to move the blocks with the code, thus changing the behaviour of the main characters of your application.
Cocos2D
The family of engines originated in 2008. And it subsequently grows into many different libraries, differing in languages, platform-oriented, performance, built-in third-party libraries, and others.
Many editions, which is typical for open source software, support third-party libraries by default. These are such as, for example, Box2D, Chipmunk, OpenAL.
Although the engine is focused on 2D, recently Cocos2D-x supports working with 3D. As well as the isometric rendering of graphics. It is undoubtedly a big plus.
No tags for this post.No tags for this post.