How to reopen a chrome window that has been closed?? How will I reopen a chrome window that was recently closed?? Can I open a chrome window that has been closed? Tips to reopen a chrome window that has been closed?
Those are user queries whereby the majority of Google Chrome users are looking for a solution!
Chrome Browser is one of the best web browsers available today. And there's no doubt about it — it's the fastest browser and reliable browser to keep your browsing data safe and secure. Chrome makes it simple to open new tabs and work with multiple webpages. Additionally, multiple tabs in Chrome appear to be a requirement for all of us.
With all Chrome features, there are still some situations in which it performs badly. This occurs most frequently when we have a large number of Chrome tabs open at the same time. When Chrome Browser becomes overwhelmed with load, it will crash and display the error message like this.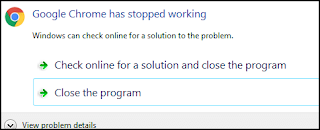 In such circumstances, the primary concern that crosses our minds is the loss of vital websites on which we were working. Chrome Browser, on the other hand, allows you to recover your closed tabs from the browser's crash or when you launch it. However, this is not always the case whenever you see that offer.
Additionally, there are times when we need to know how and when to recover a closed window. 
Therefore, if you prefer to work on multiple Chrome tabs simultaneously and cannot afford to lose webpages opened in tabs, start learning how to restore closed windows is a must-know skill for you.  Therefore, let us proceed and examine the processes required in recovering closed tabs in the Chrome browser.
How and where to Reopen a Closed Chrome Tab:
There have been numerous methods for reopening a closed window in Chrome. And believe me when I say that all of the methods are far too simple. Let's take a look at those methods.
Method 1: Using the title(Tab) bar can reopen a closed window in Chrome:
The title bar is the first method for reopening all closed tabs. It is the simplest method to follow. Using the tab bar to open a Chrome window is hardly a two-step process. Follow the guide below.
To begin, restart Chrome even after the unexpected shutdown.
Now, right-click on the empty field closed to the first tab that was opened. That is, you have to right-click the tab bar.
When you right-click, a list of options appears. Reopen Closed tabs is one of these features. Simply select that chrome feature. You can make use of the following screenshot to help you understand the process.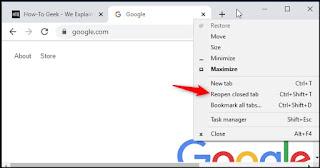 Now, whenever you click the Reopen Closed tabs button, a new window will be opened unexpectedly. The new window will display all tabs that have been open just before the Chrome browser being closed.
It doesn't seem difficult, does it? Now, let's look at the second technique for reopening closed Chrome tabs using the Chrome menu.
Method 2: Recover Closed Chrome tabs via the Chrome Menu:
The second method is to navigate to the Chrome menu and reopen closed tabs. This is another clear and simple procedure to follow. Additionally, this method is quite simple and takes less than a minute to complete.
This is how you do it.
The first step is to restart the Browser after it has been closed.
Now, position your cursor in the Chrome new window's top right corner and hit your cursor on that three dots. That's the chrome menu, which contains all of Chrome's customization options. I've included a screenshot to assist you in locating the option.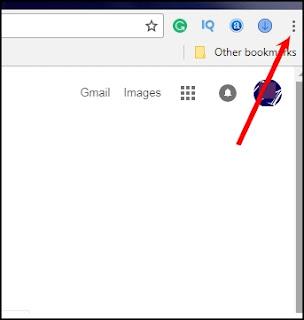 When you click the Chrome browser menu, you will see a list of various options. You must select the fourth option, which is History. Take a look at the picture below.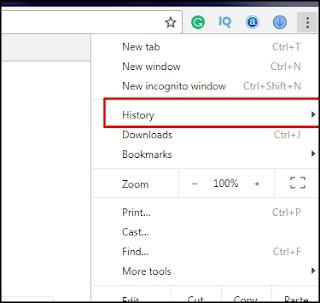 Clicking on the History will display a menu with a section labelled "Recently Closed". Select the option 'X tabs' under Recently Closed. Where X stands for tabs numbers that were recently open the browser shutdown suddenly.


To resume all closed tabs in your Chrome browser, click on that option. In the following screenshot, the option '2 tabs' is highlighted. My browser currently has two tabs open. If I choose this option, all Chrome tabs will be pop-up in a matter of seconds.
Method 3: Recover a Closed Chrome Window Using a Shortcut:
I'm now going to describe my third technique for re-opening the Closed Chrome tabs. However, the two methods outlined above are sufficient for you. 
However, once you learn about this technique, you will never use the techniques mentioned previously.
But how??
This is because the technique is a one-step procedure that is incredibly useful. To use this technique, all you have to do is push the three keyboard shortcuts.
Let's determine what the combination keys are and how to make use of them.
The initial step is identical for all three methods, namely, reopening the Chrome window following the unexpected closing.
Now, simply press Ctrl + Shift + T simultaneously to resume the closed tabs. It's a shortcut key for reopening previously closed tabs.
When you press the Ctrl + Shift + T keys simultaneously, a new Chrome window containing all the tabs will open immediately.
That is all. You can now continue your work without difficulty. Simple, eh? This is the optimal method for reopening a closed window, but only if you can remember the combination keys. Otherwise, the previously mentioned two techniques are the most appropriate for you!
Now, let's proceed to the final method in this tutorial.
Method 4: How and where to Manually Recover a Closed Chrome Tab:
The three techniques listed above are the most effective ways to access a closed tab in Chrome. However, these methods are applicable only if Chrome Browser has previously saved your session.
However, if your browser does not save previous tabs, you do not see a Re-open Closed tabs feature in the Chrome menu, and the shortcut does not work, this technique will prove useful.
In this technique, I'll demonstrate how to manually recover a closed tab by accessing Chrome History. But if you're a tech-savvy person or have even a passing familiarity with Chrome, you are probably already aware of this technique. However, if you are a beginner, you can follow the instructions below to learn how to manually open closed tabs on Chrome.
This is how you do it.
To begin, navigate to the Chrome history section. Chrome's history can be accessed by clicking on the browser menu> History
Alternatively, you can access History by pushing the Ctrl+H keys simultaneously.
Search for the webpages you were working on. If you're unsure of the website's URL, you can check the date and time it was last opened. It's clearly known that if the browser was recently closed, the last few webpages visited were the ones on which you were working.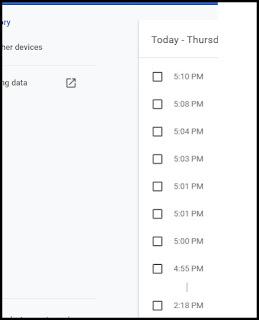 Now, from the history page, simply click on the webpages you wish to visit and relax.
Pro tip: When you click on a link in the history section, it will open in the same tab as the previous one. And you'll have to return to the History page to access another webpage. However, to expedite your work, you can open the website in a new tab by holding down the CTRL (Control) key while clicking the link.
That all about chrome tabs. I'm guessing you now understand how to recover a Chrome tab that has been closed.
Conclusion:
Chrome is one of the most widely used Internet browsers, and many users adore it for its simple interface. However, as the phrase goes, nothing is perfect, and Chrome Browser is no exception. Chrome is not without flaws. Additionally, it frequently crashes when working with multiple tabs simultaneously.
However, it is entirely due to the Chrome developers that we have multiple options for regaining closed tabs in the Browser.
I've covered every possible method for regaining the Chrome tabs in this tutorial. All of these methods will assist you in regaining access to the webpages you were working on just before the browser being accidentally closed.
I believe you must have mastered all of the techniques. However, if you are completely inexperienced and stuck on any step, you can contact me through the use of the comment section below. And I'll respond as quickly as possible.
Additionally, please indicate whether or not the tutorial was beneficial to you. If you found it beneficial, consider sharing it on those social media platforms. Bear in mind that sharing is caring.
Disclosure: The articles, guides and reviews on BlowSEO covering topics like SEO, digital marketing, technology, business, finance, streaming sites, travel and more are created by experienced professionals, marketers, developers and finance experts. Our goal is to provide helpful, in-depth, and well-researched content to our readers. You can learn more about our writers and the process we follow to create quality content by visiting our About Us and Content Creation Methodology pages.