Nestle, one of the largest food and beverage companies in the world, operates in more than 190 countries and owns over 2,000 brands. Its vast product portfolio includes various items such as chocolate, coffee, breakfast cereals, infant formula, pet care products, and many more.
However, with such a massive range of products, it becomes crucial to continuously evaluate their performance and prioritize investment for future growth. This is where the BCG Matrix comes into play. In this blog post, we will explore the BCG Matrix model of Nestle and how it helps to identify the company's cash cows, stars, question marks and dogs.
Introduction to BCG Matrix of Nestle
The BCG Matrix, also known as the growth-share matrix, is a portfolio management framework that helps companies prioritize their different businesses. In this blog section, we specifically focus on the BCG Matrix for Nestle. Nestle's BCG Matrix categorizes its products into four different categories: Cash cows, Stars, Dogs, and Question marks.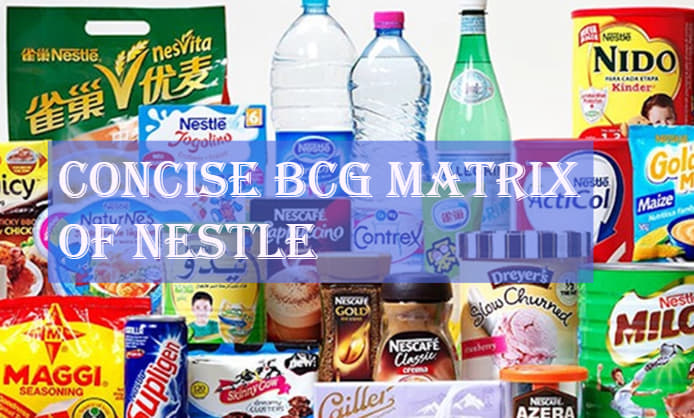 Nestle's BCG Matrix
 In this section, we will dive deeper into Nestlé's BCG matrix analysis and understand how it has helped the company in making important strategic decisions.
Stars
According to Nestle's BCG Matrix, the "stars" are products that have high market growth and high market share. These products are considered to be the company's future cash cows, as they are expected to generate high profits in the long run.
In Nestle's case, Mineral Water and Nescafé Coffee fall under the "star" category, as it has a high share in the market and a high growth rate. These products have the potential to generate a better return on investment in the long run.
 It's clear that Nestle understands the importance of maintaining their Stars and ensuring their success in the market.
Cash cows
Cash cows are typically products with high market share in a low-growth market.
Nestle's Maggi Noodles is undoubtedly its cash cow product with a market share of 80-85%. This product draws revenue for Nestle and is a crucial component of its business strategy.
 Another example of Nestle's cash cow is Nesquik, which is a global leader in milk flavour powder brands.
Based on the BCG Matrix model, companies must provide their cash cows with as much investment as possible to maximize their cash flow.
Therefore, Nestle can reduce investments in Maggi Noodles and extract the maximum cash flow to increase its overall profits. It is essential for Nestle to leverage their cash cow to maintain their position in the market and sustain their growth.
 Question marks
The BCG Matrix of Nestle has identified certain business units as question marks, which are products that have a low market share but operate in rapidly growing markets. Interestingly, Nestle's Chocolates and confectioneries falls under this category. While Nestle enjoys a dominant position in the food industry, they face stiff competition in the confectionery market.
The company is constantly looking for ways to innovate and introduce new products to capture this growing market. However, with an uncertain future, these products require careful consideration and investment to achieve future growth.
Nestle must be strategic in their decisions on how to proceed with products in the question mark category, considering their potential for success in a highly competitive market.
Dogs
In the BCG Matrix, Dogs are products or services that have low market share and low growth rate. This means that they are not generating substantial revenue or market growth for the company.
In the case of Nestle, some of its products can be categorized as Dogs in the BCG Matrix and an example is Nestle's Milo. These products may have been successful in the past, but due to changes in consumer behaviour or market trends, they are no longer in demand.
This does not mean that Nestle should immediately discontinue these products. Instead, they can invest in improving the product or exploring new markets where it may have potential.
Future outlook for Nestle's BCG Matrix and potential changes in product categories
Looking into the future, Nestle's BCG Matrix may see some changes in their product categories. As Nestle continuously updates and innovates their products, some products may shift from being a "cash cow" to a "question mark" or even a "star".
With the rise of health consciousness among consumers, Nestle may need to put more focus on their healthy product lines as they have the potential to become stars in the future.
On the other hand, Nestle may also consider selling off some of their low growth products or rebranding them to meet the changing demands of their target markets.
By continuously evaluating their product portfolio, Nestle can stay ahead of their competitors and provide their consumers with products that are relevant and timely.
Conclusion
The BCG Matrix of Nestle provides a comprehensive framework for portfolio management and helps the company prioritize its different businesses.
By categorizing its products into stars, cash cows, question marks, and dogs, Nestle can make informed decisions on resource allocation and investments. The analysis reveals that Nestle has some products in each of the four categories, indicating a diversified portfolio.
However, the BCG Matrix has certain limitations, and Nestle must consider other factors, such as market trends, consumer preferences, and competition, before deciding on the future of its products.
Disclosure: The articles, guides and reviews on BlowSEO covering topics like SEO, digital marketing, technology, business, finance, streaming sites, travel and more are created by experienced professionals, marketers, developers and finance experts. Our goal is to provide helpful, in-depth, and well-researched content to our readers. You can learn more about our writers and the process we follow to create quality content by visiting our About Us and Content Creation Methodology pages.