Microsoft is among the biggest guns in the technology world. Their competition, Apple and Google too are giants in their respective fields. When Microsoft launched its mobile platform back in 2010, it was a huge deal. 
Millions of users all around the world started to opt for Microsoft-run phones. Sales of Microsoft phones rocketed in Australia, Singapore, New Zealand, and Europe! However, their fame was short-lived. 
By 2019, Microsoft had to close the Windows run mobile phone project because of low market penetration. It was unable to compete with the big giants in the long run and coming from an app developer, Microsoft has a lot of blame to take for that.
Giant paraziting on a small business
This story was shared with us by Spincastle.com. If you like drama, you don't need any Mexican soap operas. All you have to do is to become a customer of Microsoft. Let us first understand how the process of uploading an app to the Microsoft store worked as well. The first step to launching any app would be to register your business with Microsoft by verifying your Microsoft Partner account. 
This seems like a very simple and straightforward step- well it is not. Once you sent all the verifications requested by them you would be expecting a swift reply within a couple of days or a week or two. However, with Microsoft, you get nothing. 
You will write a follow-up email and a further email to follow up your follow-up email, but you will get no response from them. You might even try getting a new ticket to contact them, but that too might remain unattended.
Looking for ways to be able to contact them, you will go for other channels such as calling them personally. Maybe, if you are lucky enough, the call will get responded and after some tedious hours that you will never get back, you will get someone to look into your requests.
The real trouble only about to come
Now, your business seems fine to Microsoft and they have accepted your request to launch an app. You are head over heels about the prospect of getting a new platform and you immediately get a freelancer to design an app for you for the MS platform. Once you are all ready and set to launch your app and be jubilant in a long while, Microsoft gives you the following message:
"We support only Microsoft accounts (Outlook/Live) for registering into Windows and Xbox programs.
You are signed in as "example@example.com" which is not a Microsoft account.
If you believe this is an error message……"
In short, you have to have an outlook account! It is a technical thing with MS but they have no right to ask you to open an account that you are never likely to use. Once you open an account and contact support, you will realize Partner Centre is the wrong group for support and you have to contact Developer Centre.
The Developer Centre is quick to respond and would even send you a technical guy to look into your problem. However, even with this guy, you won't proceed much further in your way to publishing an app in MS. They will ask you all kinds of nonsensical and irrelevant questions such as the bank statement of your company which have no relation to the problem at hand.
Now let's talk about money
A few days have passed and it turned out that opening a new account was not an option. Didn't work out, never mind. You paid an extra 90 eur, never mind. We will pay it back, you only have to submit a ticket. So the webmaster did. For a few weeks nothing happened and then this. 
At first sight, it looked like they were mistaken so the webmaster replied with facts. (the response at the end of the first image)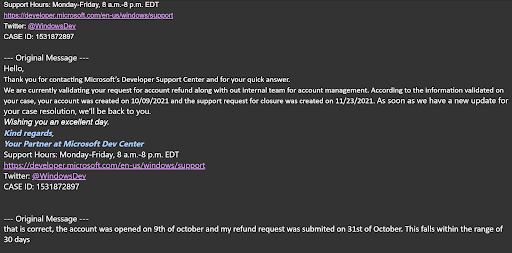 Then it turned out, they simply abused the dominance and simply decided to keep the money. So the webmaster replied with more than facts and sent them to hell.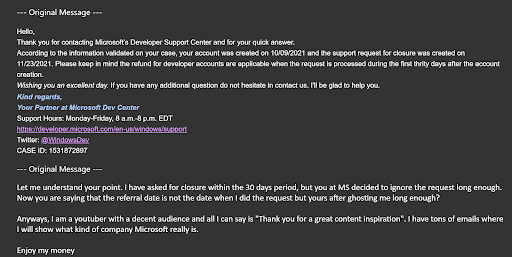 To sum it up, launching an app in MS was a hassle and it is one of the main reasons that Microsoft was not successful with their mobile platform. Do you think it is exaggerated? Check it on your own by reading the experience of other customers.