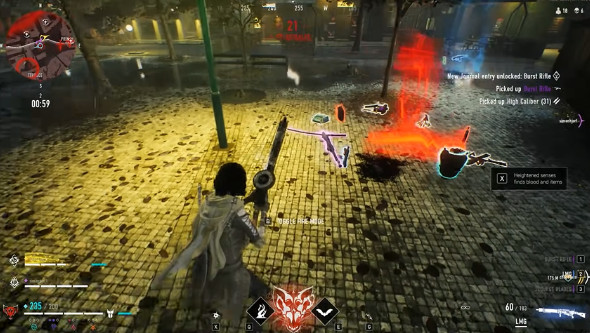 Bloodhunt has quickly become a game that everyone is playing. Look at the Twitch streaming data in the last year or so, and you will find that this game has made its mark in the community. Its September release for PC in 2021 has done a masterful job in making the game available to a broader audience and propelling the craze of the game to heights unimaginable before.
But it does not mean that everything is hunky-dory in the gaming world of Bloodhunt, especially for beginners. Have you just started playing Bloodhunt? Then you would most likely have already been on the receiving end of a knockout without you even having a chance to respond. It is pretty standard for veterans of the game to blow newbies off the board. Now you can take advantage of the Bloodhunt Aimbot hack to give yourself a fair chance, but you would need much more to win against the game's veterans. Well, we have compiled a list of some tips and tricks that can quickly propel your chances of victory in this game.

You are a vampire, so it is better to think like one as well. What is the biggest advantage you have in this game? The ability to heal yourself by feeding on the mere mortals (the NPCs) in this game. Five different types of Blood resonance bonuses are present in the game, which you can get by feeding on the morals. But it is the potent one that you should look out for as it will grant you an extra life when playing solo modes.

Use your heightened senses to scan the surroundings
Bloodhunt allows players to scan their surroundings for enemy players, NPCs, and other loot items. This is something one is advised to use as much as they can without unnecessarily putting themselves in danger. With Heightened Senses, not only would you be able to get that all-important ammo to fill up your weapon, but you can also find out if you are walking into a trap. Additionally, Heightened Senses also once to find the resonance of the mortals, which will help you determine whether the NPC character is suitable for you or not.
Make sure you are not caught while feeding on the NPCs
The biggest mistake you can make in this game is being brazen when feeding on the NPCs. If you are caught while feeding on them by another NPC, then it would immediately start a Bloodhunt. Your location would be shown to every player on the map, and you would instantly become the No 1 target. Now, if you are playing this game for fun, then this is an excellent way to go out, as you would be extremely unlikely to survive the Bloodhunt. Be careful that you are not spotted while feeding on the NPCs if you actually want to win.
Folks familiar with the online PvP Battle Royale games know how vital looting is as part of the game. You would need to gather supplies like ammo, guns, armor, and other consumable items to ensure that you are well equipped for the fight that is on your hands.
Unlike the other Battle Royale games, where there are high-quality loot areas, the loot is scattered across the map in Bloodhunt. So, you need not worry about getting to a specific location for the loot and putting yourself at risk.
The start of this game can be pretty chaotic, and you will not want any part of that if you want to win the game. Find a safe place where you are most comfortable and communicate with your teammate regarding the best course of action. It is far better to run away from the fight rather than be bogged down in an all-player melee. Yes, it might seem counterproductive, but it is often the best way to avoid being killed during the first couple of minutes.
Winning a round in Bloodhunt can be quite tricky, even when you are playing as part of a team. But if you follow the sensible tips mentioned earlier and avoid doing anything foolhardy, you can significantly increase your chances of success.
No tags for this post.No tags for this post.