A favourite instrument for cybercriminals to access personal information is phishing. Deloitte estimates that 91 percent of all cyberattacks begin with just phishing email attacks.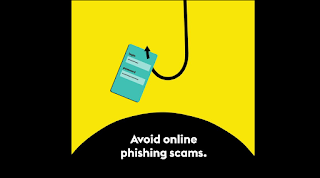 However, there is some good news: these fraudulent activities are curable with appropriate safeguards. However, it involves a high level of caution and reliable safety precautions. As such, we'll cover the obvious signs of these cyberattacks, what you can do to safeguard yourself, and how can report phishing emails in this quick guide.
How Do Phishing Emails Look Like?
Recognizing a phishing email is exceedingly difficult. If you become a victim of one, you are not alone; the large percentage of email users are unable to recognize them as well. However, it does not mean they are unbreakable. Once you know what to look for, you'll be able to spot the traces with ease.
These emails frequently serve one of two purposes:
1. Obtaining Personal Data That Can Be Used To Assist Criminals In Committing New Crimes
There can be numerous ways for a criminal to phish your personal information. For instance, they may send an email attachment containing spyware that downloads and collects important documents from your computer or smartphone. Alternatively, they may share a malicious URL that will direct you to a bogus website that resembles the website of a reputable organization.  These are frequently used to obtain your login information or other identifying information that is only accessible to that organization.
Criminals may even directly request your confidential information. While this might seem surprising, it may be just as effective, particularly when the email looks like what you know and is very convincing.
And what type of information are they usually phishing for? Almost anything is associated with your identity. These may include your bank account information, credit card numbers, usernames, and login details, as well as your address, tax identification number, social security number, and medical records. Once will become one of the victims, the outcome may be difficult to predict. For illustration, a criminal could use your identity to commit medical scams or tax fraud or even commit crimes against others.
2. Aim to scam you financially
Financial fraud committed through phishing emails is not restricted to obtaining banking information or filing a false tax return. Additionally, criminals may convince you to conduct a financial transaction.
For instance, they could pose as a member of the family and request funds via wire transfer in the event of an emergency. They may appear to be a charity demanding a donation or the IRS requesting payment on an unpaid tax bill. Certain scams involve lottery or jackpots, in which victims are required to pay a service fee before they can claim their prize. These scams frequently target old people or those who do not speak English.
LISTENING TO THE WARNING SIGNALS
The simple truth is that you cannot trust any email you receive. Phishing emails are frequently convincing and difficult to understand. They'll typically appeal to your emotions, such as worry, fear, or empathy, and will normally insist on urgent action.
There seem to be many red flags that indicate a phishing attack. For example, the email address may be slightly different to those being impersonated. You may observe an additional hyphen or a lacking letter if you look closely. Another giveaway is the email signature. It may appear slightly different from the main sender. You could even notice a subtle difference in greeting or writing style when you are being impersonated by a criminal.
PROTECTION AGAINST A PHISHING ATTACK
To avoid getting scammed, you must use extreme caution. In general, avoid these things:
Replying to email requests that include identifying information or involve a financial transaction, such as a charity or financial transaction.

Downloading or Clicking on attachments.

Clicking on links.

Reputable organizations don't often ask for personal information via email. They are especially cautious about these processes due to the risk of revealing their potential customers to phishing attacks. However, if there is confusion, call them first and confirm it.
REPORTING PHISHING EMAILS
Reporting phishing emails is extremely important. It will assist authorities in conducting research and raising awareness among others, thereby you are reducing the risk of new victims. Even if phishing attacks may be difficult to end, there is always the possibility of reducing the damage they can cause.
The question to ask yourself is: Who should you tell? You can report the email address to the Anti-Phishing Working Group (APWG), a global coalition dedicated to combating cybercrime. Reporting phishing attacks to the Federal Trade Commission is also important, especially if you have been a victim of one.
In conclusion
Phishing emails have grown to be one of the most common attacks on internet users in the modern era. They are frequently used to prey on innocent people for identity fraud or financial fraud. And these email messages are not only highly misleading but also extremely hard to detect. Thus, being excessively careful will not harm your chances of avoiding a phishing attack. Naturally, there are some warning signs that can assist you in identifying spam emails.
They frequently rely on instilling a sense of panic in order to compel you to act immediately. Additionally, you may notice minor things such as spelling errors or minor variations in the email address.
Avoid responding via email to anyone who requests private information or a business deal. Links and attachments should also be avoided unless the email's authenticity has been validated.
To avoid email phishing, it is critical to practice good security hygiene. Notifying authorities is also necessary in order to launch a coordinated effort to combat these scammers.
Disclosure: The articles, guides and reviews on BlowSEO covering topics like SEO, digital marketing, technology, business, finance, streaming sites, travel and more are created by experienced professionals, marketers, developers and finance experts. Our goal is to provide helpful, in-depth, and well-researched content to our readers. You can learn more about our writers and the process we follow to create quality content by visiting our About Us and Content Creation Methodology pages.