Welcome to the world of strategic management and analysis! Today, we examine one of the world's most popular sportswear brands, Nike by using BCG Matrix. Nike was founded in 1964 and it has been one of the leading forces in the industry, securing its place in the market with innovative designs and unparalleled quality.
But despite its consistent success, every company must evaluate its position in the market from time to time to ensure future growth and sustainability. And that is where the BCG Matrix comes in.
So grab your thinking hats and join us as we take a deep dive into Nike's products and evaluate their position using one of the most effective strategic management tools available!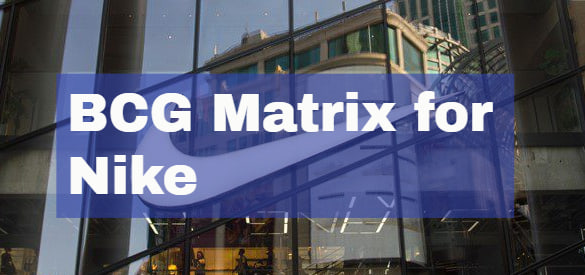 Introduction to Nike's BCG Matrix
The Boston Consulting Group (BCG) Matrix is an essential tool used by organizations to analyze their portfolio of businesses. Nike, being one of the leading sportswear companies globally, also uses this tool to evaluate its product lines.
The BCG Matrix is a graphical representation that divides businesses into four categories: Stars, Cash Cows, Question Marks, and Dogs. These categories help organizations prioritize their product lines based on market share and market growth potential.
BCG Matrix of Nike
 In this section, we will delve into the BCG Matrix of Nike and explore its product portfolio in terms of the four categories. This will provide insights into the strengths and weaknesses of Nike's product lines and help in identifying areas of potential growth.
Stars
In the BCG Matrix analysis, Stars are the products or business units having a large market share in a fast-growing industry. Nike, being the most popular brand of sports, falls under this category.
Nike has entered into a lot of partnerships with the NBA, NFL, and FIFA which has increased its brand value and market share making it a Star in the industry.
Additionally, Nike Flyknit, Nike Pro Combat, and Nike are some of examples of Stars in the BCG Matrix. The investment in these segments has resulted in high-selling products with high margins, proving Nike's strong market position.
Nike's Run Club application is also a good example of Stars, as it provides personalized training programs and fosters a community of runners.
By investing in these segments, Nike is effectively deploying resources and could continue dominating the market with its Star products.
Cash Cows
According to the BCG matrix analysis of Nike, the cash cows are products with high market share but low growth, generating substantial cash flow.
Nike footwear is a prime example of Nike's cash cow, as it continues to generate considerable revenue for the company.
Additionally, the supplier management services strategic business unit is also a cash cow in Nike's BCG matrix.
In terms of apparel and hardware, they may also be considered as cash cows, as they generate a significant amount of revenue for Nike.
Nike should continue to focus on these cash cows' development, even if they have a low growth rate, since they generate cash that can be used to invest in other business units, where Nike can innovate and experience growth.
Dogs
In the BCG Matrix analysis of Nike, the "dogs" category represents products with low market share and low growth potential.
Nike has a few products that fall into this category. One of them is Nike's FuelBand was considered a Dog product as it failed to attract customers due to high cost and poor quality.
Another example is Nike's Golf Equipment, which struggled to compete with established brands in the market. Nike's Skateboarding line of products also fell under the Dog category due to poor marketing efforts and low consumer demand.
However, if Nike can turn these Dogs into Cash Cows or Stars with a different strategy, it could greatly contribute to the company's overall success.
Question marks
Question marks are the business units of Nike that have low relative market share but are in a high-growth industry.
In the BCG Matrix analysis of Nike, some examples of these question marks are Converse, Jordan, and Hurley. These brands have more market growth potential than market share, but with effective strategies, they can turn into stars.
However, since they require huge investments, Nike needs to be cautious in their approach. Nike needs to focus on their market research and invest in innovative ideas to turn these question marks into stars of the future.
With the right strategic management, Nike can create an effective plan to ensure the growth and success of their business units.
Implications for Nike's future
The BCG Matrix analysis reveals that Nike's branded footwear business is a cash cow in the industry, while some of its other businesses are question marks or stars. This understanding of Nike's market position can help the company in making strategic decisions related to its product portfolio.
Nike can focus on investing in businesses like its sports equipment or apparel segments, which have the potential to become stars in the future, while also capitalizing on its cash cows.
The company can also consider divesting or restructuring its question marks or dogs to improve its overall portfolio efficiency. By using the BCG Matrix as a framework, Nike can ensure that it optimizes the allocation of its resources and maximizes its profits.
Overall, by leveraging its strengths and addressing its weaknesses, Nike can continue to thrive in the market and maintain its leadership position in the sports and fitness industry.
Conclusion
Overall, the BCG matrix analysis of Nike's product portfolio indicates that Nike is a strong and profitable company with a range of products that are making a positive contribution to the company's bottom line. The company's position as a cash cow is a reflection of its leadership position in the market, and its ability to generate significant revenue from its core products.
Disclosure: The articles, guides and reviews on BlowSEO covering topics like SEO, digital marketing, technology, business, finance, streaming sites, travel and more are created by experienced professionals, marketers, developers and finance experts. Our goal is to provide helpful, in-depth, and well-researched content to our readers. You can learn more about our writers and the process we follow to create quality content by visiting our About Us and Content Creation Methodology pages.